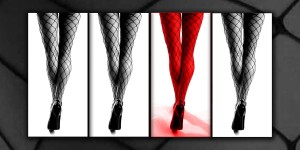 For my first post, I thought I'd try to explain the name of my blog "Phoenix Boudoir Photography Queen".  Since I do so many other types of photography: weddings, children, pregnancy, high school seniors and even commercial work, the name seems rather limiting. So here goes…
Long, long ago….in the land of the 'Valley of the Sun' there existed a credo among 'legitmate' photographers that photographing women in their underwear was a dirty thing. Not to be talked about or mentioned in the circles of  'carriage trade' photography discussions.
But in the shadows there were photographers, including myself, who were legitimate and prosperous and who thought that a client should be able to express themselves to the camera sexually in an artful way.  Most of all without being judged as 2nd class or worse yet, low class. Even those who did do it, did not do 'nude photography' or alternative lifestyle folks and couples. Boudoir photography was tolerated, but snickered at by my colleages.
I remember many laughing out loud when I discussed it. When a boudoir photo was entered into a professional photography competition, it was automatically assumed that it was my work. Unfortunately, they were usually right. It was hard to score high in the competitions with boudoir work, and to a certain extent, it still is.
Well, it seems, these same folks are now doing boudoir photography. Some are really promoting it, some are 'hiding' it by setting it up in an entirely new business name. If I sound angry, well I'm not, just annoyed. I am also vindicated. I feel I was ahead of my time. I don't feel, however, that tolerance is revolutionary, or that being open to explore things that make you uncomfortable is something unique to myself. But I do feel that I am more willing than most to be open to what my clients want and to intuit their genuine desires and their image of themselves as sexual beings.
All that being said, I am now still ahead of my colleages in the boudoir arena. I know how to get to the core of how a young lady REALLY wants to look. What will get her to relax in front of the camera, stark naked. To express herself without fear of ridicule, and to help her to revive the inner confidence in her looks, sexuality and more. All the lighting instruction, beautiful sets, sophisticated equipment and yes, photoshop, cannot replace that look in the eye of the subject that communicates her inner 'seductive' self. Her sexual 'womaness' to be expressed in HER style, is what I seek to get thru to the camera.
So…..there are the divas and various others who are now 'discovering' boudoir. But I AM THE QUEEN. The 'Grand Dame' if you will. At least in my little corner of the world. I love photographing weddings and children and all the rest, but what I am most known for is my Boudoir Photography. Now I can finally feel really proud to say that.
Also, my blog will be very honest and sometimes probably too personal and blunt. But as a good friend once told me, "Be yourself, you are beautiful as you are". She knows who she is, and I want to thank her for reminding me that God makes us what we are. Who are we to question it?
Thank you for reading.