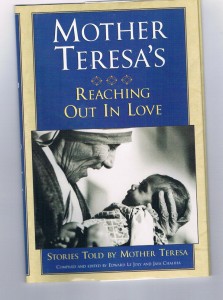 I have wanted to post this for a week. I struggled and struggled about what to say and how to say it. I decided simply to start with the core of my inspiration, an excerpt from Reaching Out In Love, stories told by Mother Teresa. The book was compiled by Edward Le Joly and Jaya Chaliha. I donu2019t know what all of the legalities are, but I donu2019t think they will mind. I know Mother will not mind.u00a0 So a little story about Mother Teresa:
During an interview with Mother Teresa, two Japanese gentlemen expressed their feeling that many of the Japanese people might hesitate to seek help at her home because it was a Christian institution. u201cIt has a cross,u201d one of them said, u201cand the cross is an obstacle to many in Japan. People might look at the cross and they might hesitate to come because they are not Christians.u2019
Mother told them about the most joyful place she had ever visited and dispelled their fears.
u2018In Calcutta, we have a Home for the Dying near the great temple of the Hindu goddess Kali. It is one of the most famous temples in India and we have the home for the sick and the dying next door. They know we are Christians and we help them die in peace with their God. When the Hindus die, we call the Hindus and they take the bodies; when the Muslims die the Muslims take the bodies; when the Buddhists die, the Buddhists take the bodies; when the Christians die, the Christians come and take the bodies. But there is no fear. By being in the institution there, what we have to prove to our suffering people through our actions is that God loves them.u2019
u2018Our love for God in action is our service to the poor. Your love for God in action is to write properly. Your love for God is to write the truth, to spread goodness, to spread beautiful things. this is the way you put your love for God in action.u2019
Mother Teresau2019s wisdom has made me realize that each of us puts our u2018love in actionu2019 for others thru our work and our ordinary daily interactions with others. I am a photographer. Thru my photography I can put my love for God and others to work. I know I am a little crusty, and that most people donu2019t know I think about such things. But the truth is I think about it all the time, everyday. But like many of us, I donu2019t always show it, or I am not successful at resisting the negative factors that affect our daily attititudes toward others and situations that arise.u00a0 I give it my all everyday and u00a0I do take my work very seriously, because it is my way of showing love for others. I see them, and I think they are beautiful. I seek to show them how beautiful they are. God wants them to know too.
So when you think of the mundane things you do everyday for your family, and others, or even strangers on the street, just remember that you have an opportunity to show your love for others u2018in action.u2019
When asked u2018How do we love?u2019, Mother Teresa said:
u2018Not in big things, but in small things, with great love. u2018
It is said that we teach what we want to learn. I will try harder everyday.